SHREE KRISHNA MARBLE GROUP
Shree Krishna Marble Group is a leading manufacturer and supplier of Indian marble, situated in Kishangarh, Rajasthan. The Company is to provide the best & beautiful Indian Marble to its customers. The Company is heartily dedicated to provide aesthetic quality marble to its clients. In doing so, we only supply and export finest quality marble from all around the world, enabling us to offer a diverse range of figurines, in terms of color, shape & size.
If you are planning to apply Marble in your house and looking for a choice, then you are at the right place as we will tell you that which Marble and its color you should apply in your home. For decades now White marble has become synonymous with luxury in both residential and commercial purposes.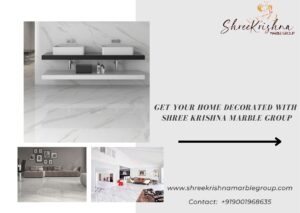 What White Marble Actually is?
White marble is a category of natural Indian marble of white color. They are very popular for their look and stunning look. Like other Indian stones it also contains calcite which makes it very durable and absorbs less water.
If you want to give a special touch or look to your new home or existing space, the first thing to focus is on the floor of the home. Every place you walk on changes the inner appearance, whether it is lifting your interior or place up or down.
ADD BY EXPERT AND EXPORT TEAM OF SHREE KRISHNA MARBLE GROUP. CONTACT US ON: +919001968635.